6 lighting design best practices for retail spaces
When it comes to lighting design, retail is one of the industries where the difference is unquestionable. From customer acquisition to product marketing and more, lighting design differentiates the best retail environments.
Our team has years of experience in retail lighting, so we're rounding up six best practices that can make a retail space stand out.
Whether you're incorporating retail space into a larger development or you're working on a specific retail brand, these principles can help you deliver a happier client who is poised to grow.
1. Use accent lighting and contrast ratios to create interest
Accent lighting is one of the most important elements of a retail space. This is what draws customers' attention to the right displays or product. But some retail spaces don't have enough contrast between general lighting and accent lighting to be effective.
Consider a contrast ratio of 3:1 or greater to create drama and draw interest to specific areas. We tend to aim for a contrast ratio of 5:1 for maximum impact. A great way to do this is lowering general illumination levels (within reason) to help the accent lighting have its intended effect. Additionally, high general illumination can make it impractical or require excessive lighting (and energy) to achieve contrast.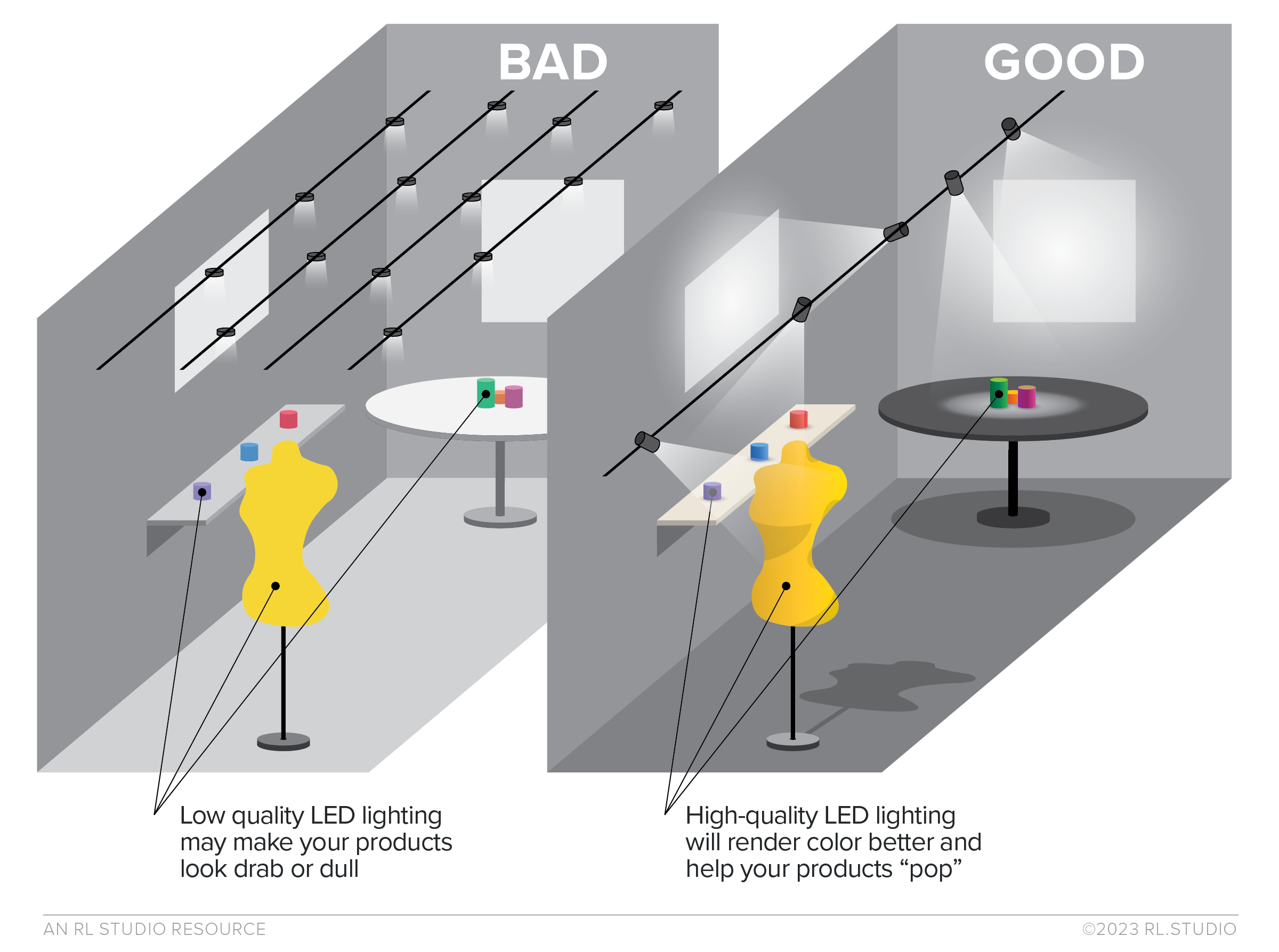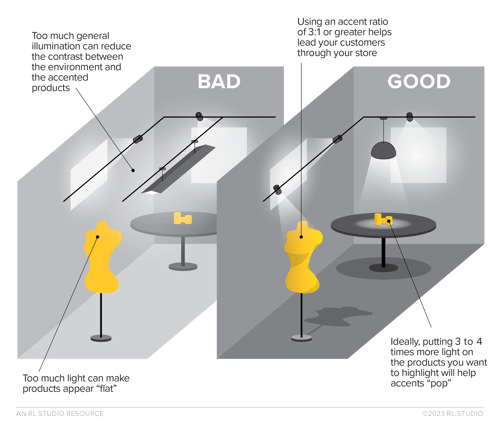 2. Displays matter for fixture placement
Ideal display lighting should illuminate the target without annoying glare for customers in the space. As a rule of thumb, placing accent lighting one third of the mounting height off the face of a display is a good starting distance. If fixtures are too close to the target, displays can appear washed out or cause unintended shadows in other areas or lower shelving.
The trick here is that your distance should be measured from the face of the display, not the wall. When working on lighting plans, this small detail can make installation easier and reduce issues during commissioning.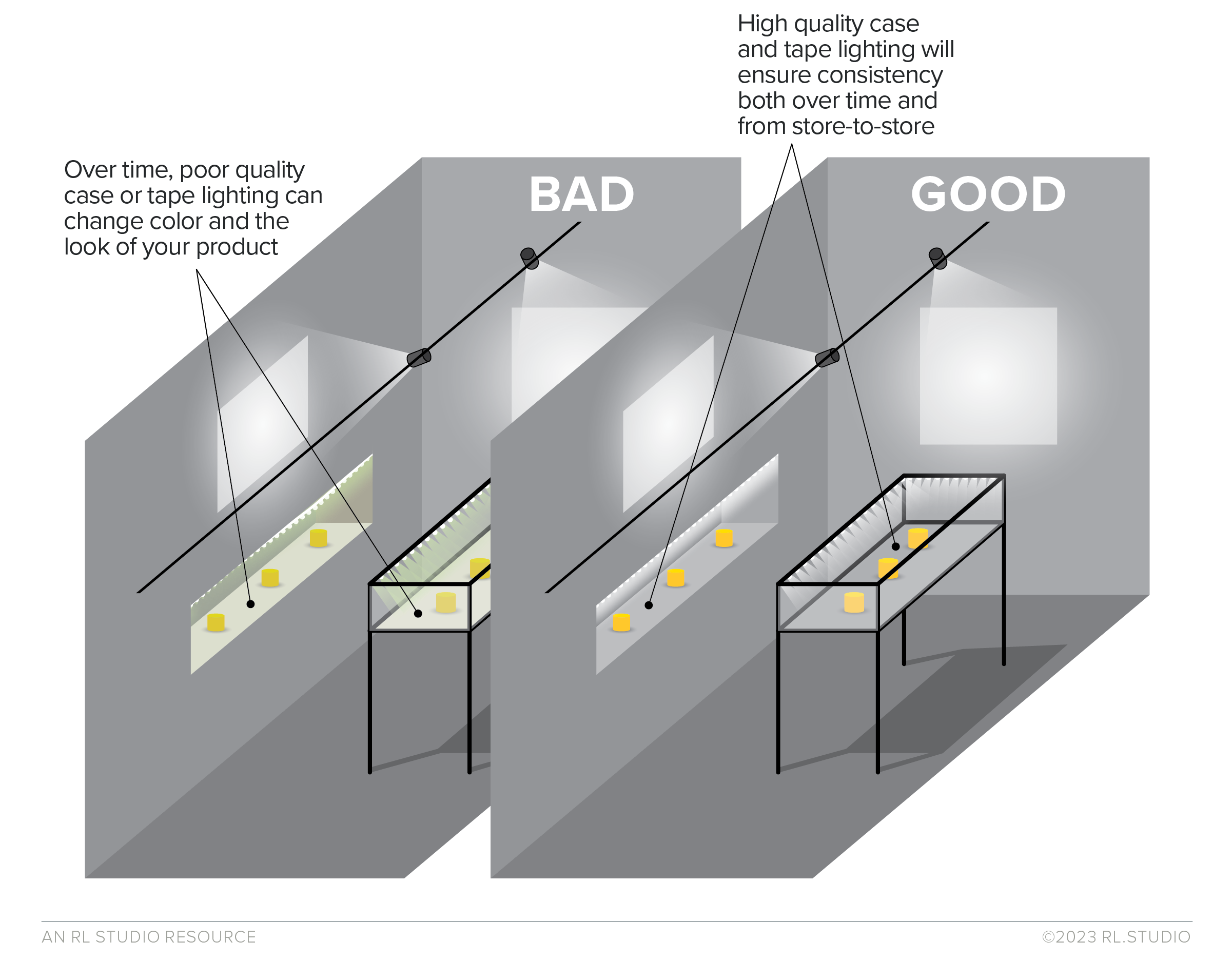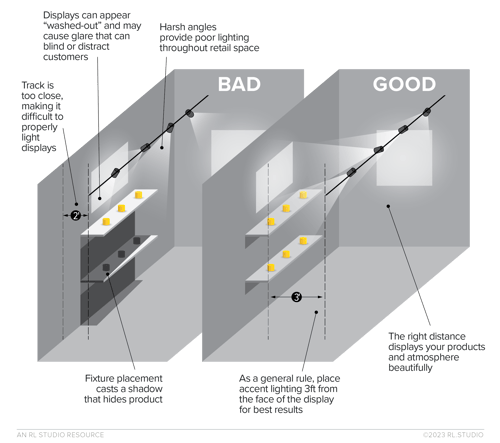 3. Don't forget to aim lighting after installation
Commissioning matters when it comes to retail. In addition to any controls configuration, aiming accent lighting ensures that the correct displays and products are in the spotlight. After all, you want your customers looking at your merchandise, not the floor.
As a rule of thumb, keeping keeping aiming angles below 30 degrees gives the best product lighting while avoiding "glare" that could distract your customers. This is easily achieved with proper fixture placement noted above.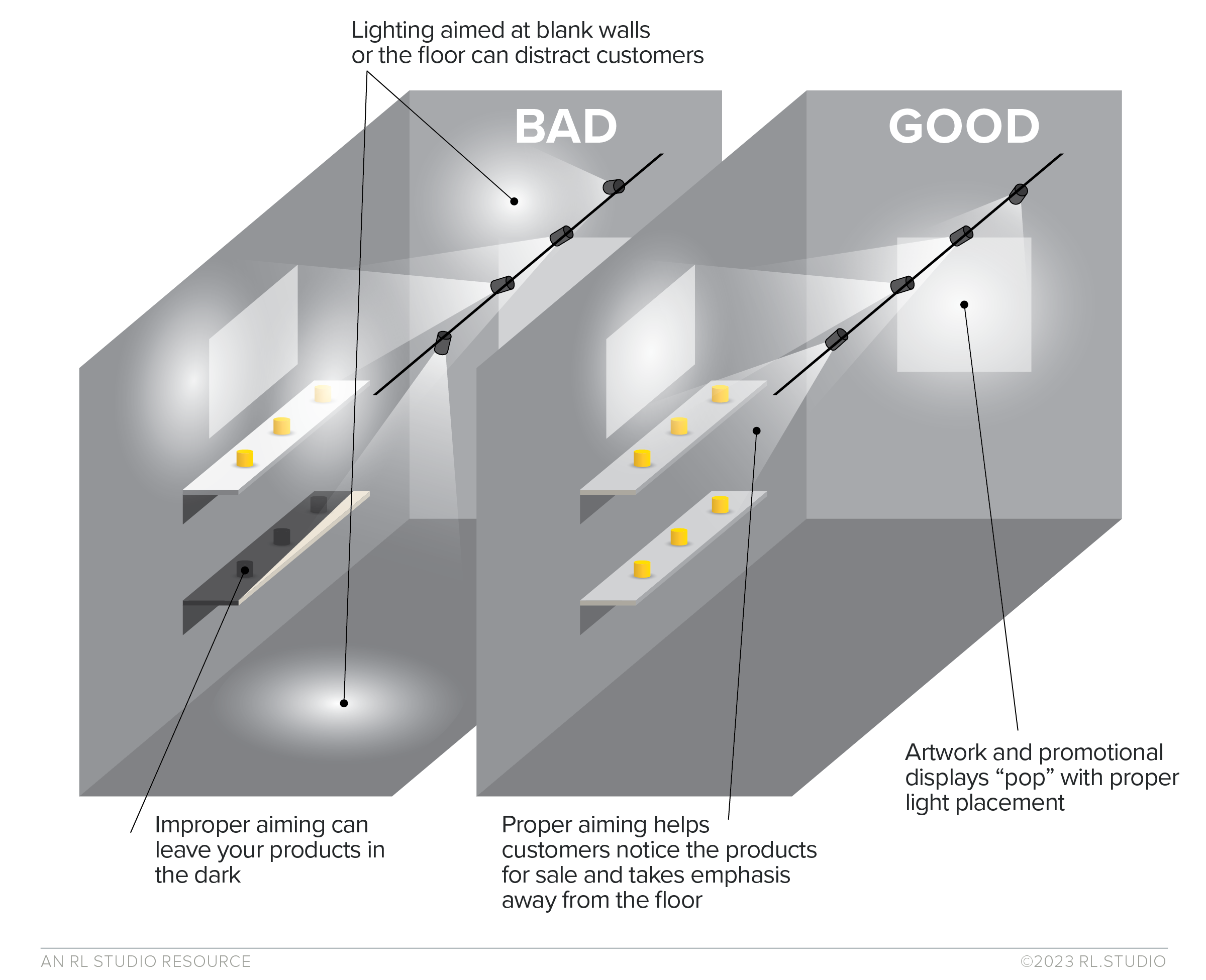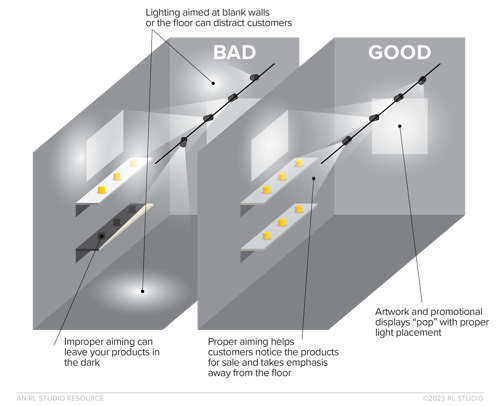 4. Not all case and shelf lighting is created equal
Use high quality case or tape lighting to ensure that colors look right, are consistent and "pop" to customers. Settling for inexpensive tape light can result in sagging tape, glare, unsightly color shift, and poor color rendering qualities (more on this later).
The bottom line: using low-quality case and tape light to illuminate high-profile merchandise is a compromise that may cost clients in the long run.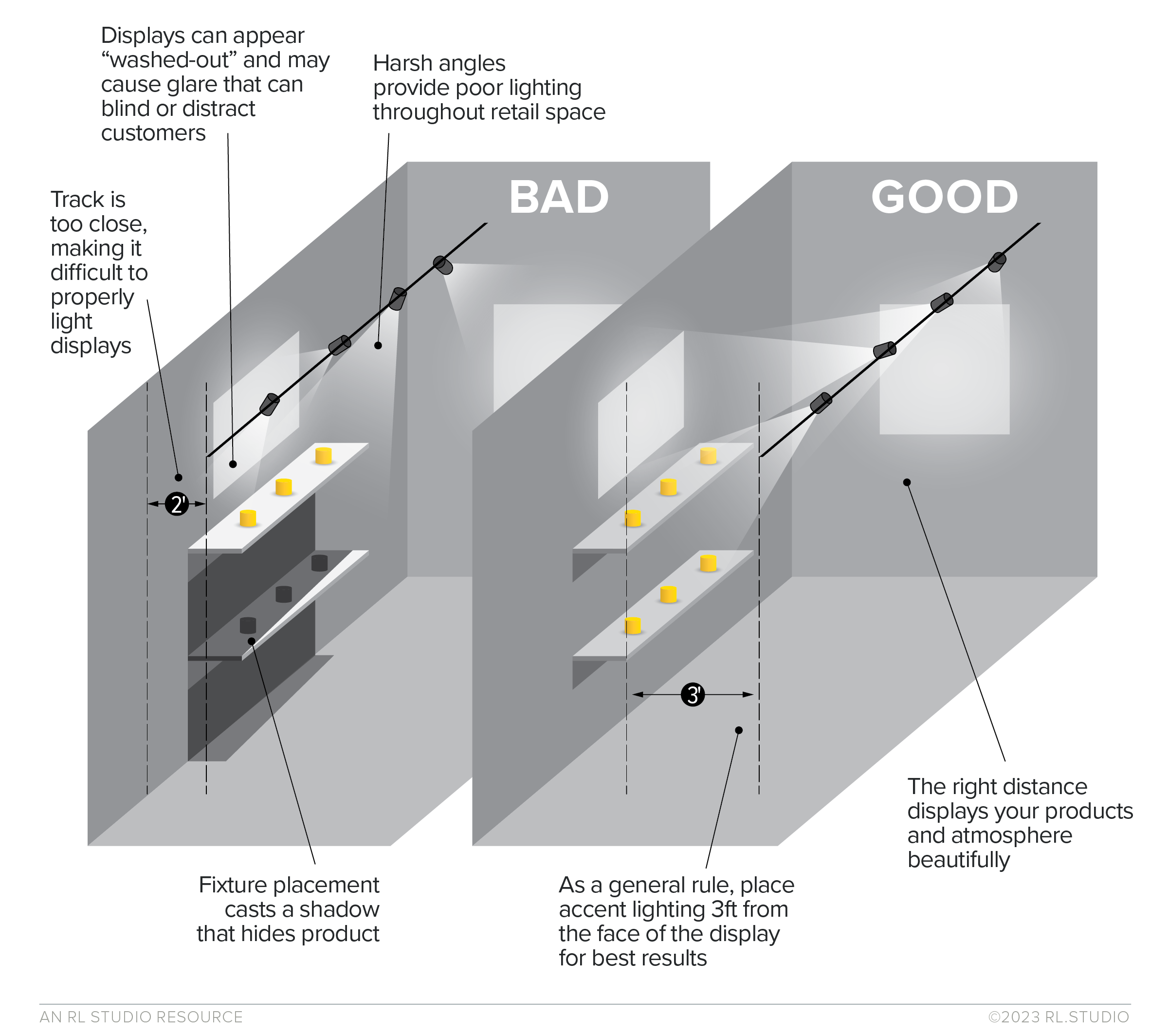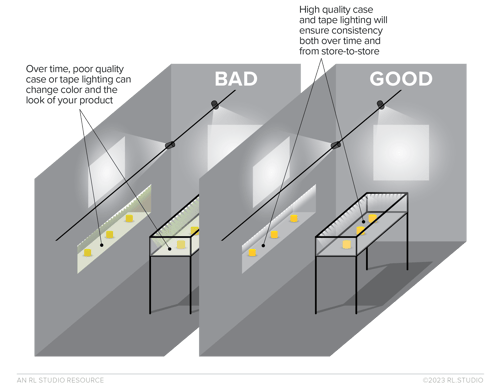 5. Better lighting doesn't always mean more fixtures
Use fixtures that produce the correct amount of light and give the proper accent ratios for maximum impact. In many cases, the right quality lighting can reduce the number of fixtures needed compared to lower-quality options.
The end result for a space means cleaner ceilings with less visual clutter, better accent ratios, and a more inviting and strategically lit space.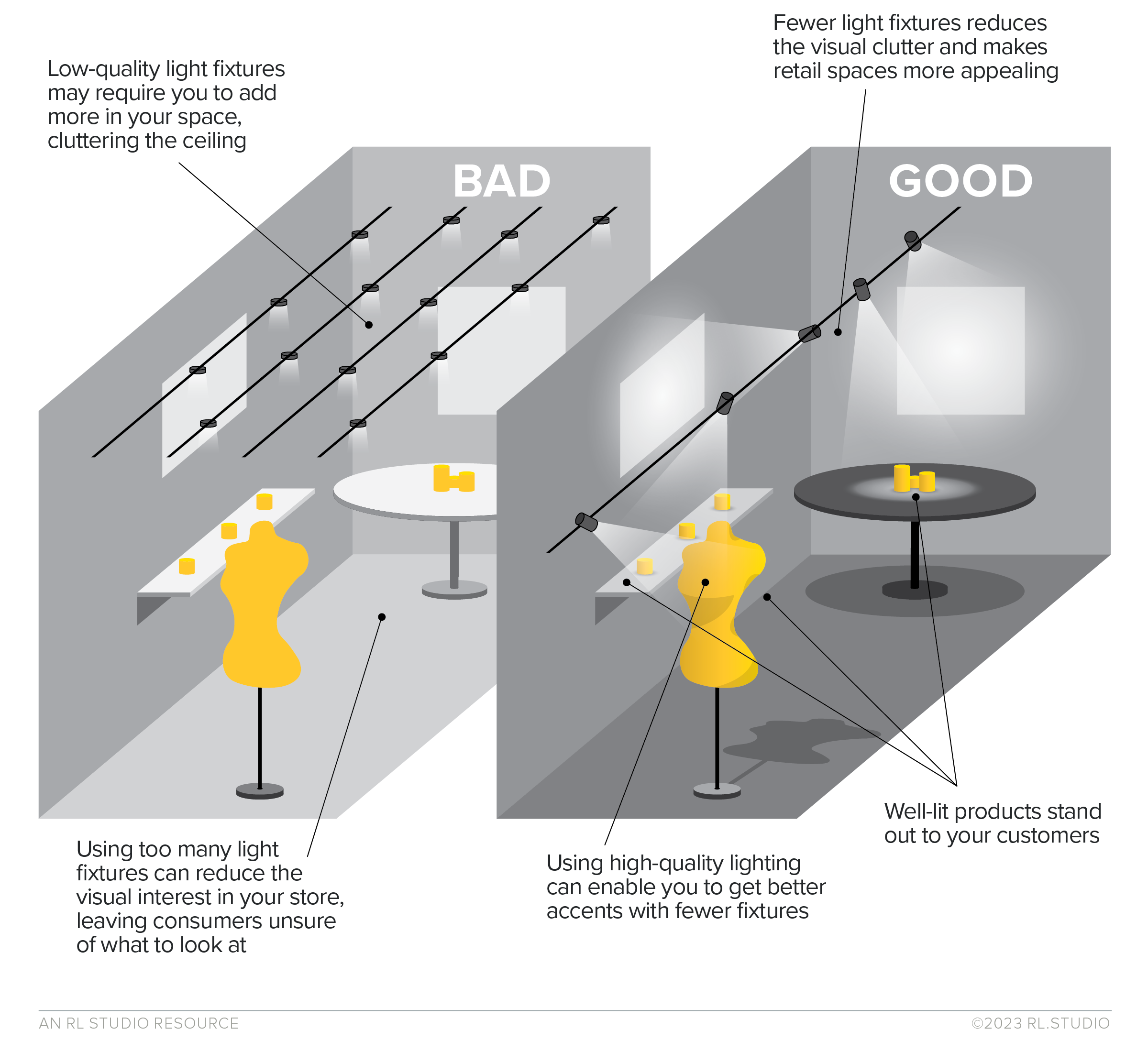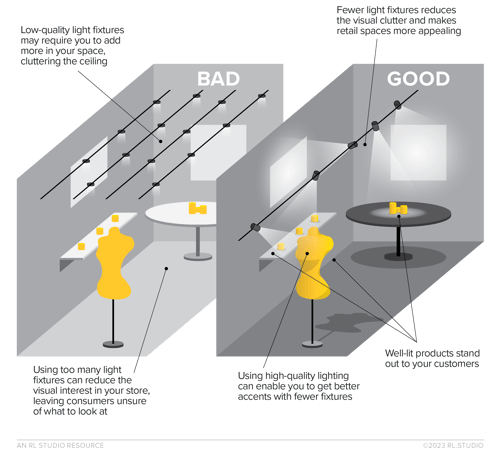 6. LED quality and color quality matter in the long run
Remember that all LEDs are not created equal. Some of the challenges with low-quality lighting include:
Poor color quality that makes merchandise look flat, dead, or unattractive

Risk of premature failure

Color shift that changes the look and feel of the environment (If you're ever seen greenish-hue LED lights, you'll get this immediately.)
We've covered LED quality before, but keep in mind that quality doesn't always equate to expensive. Often challenges with quality are introduced with value engineering exercises that evaluate only up-front cost.
There are some high-end retail applications where higher-end options that include specialty color rendering, color tuning, and advances controls might be worth considering.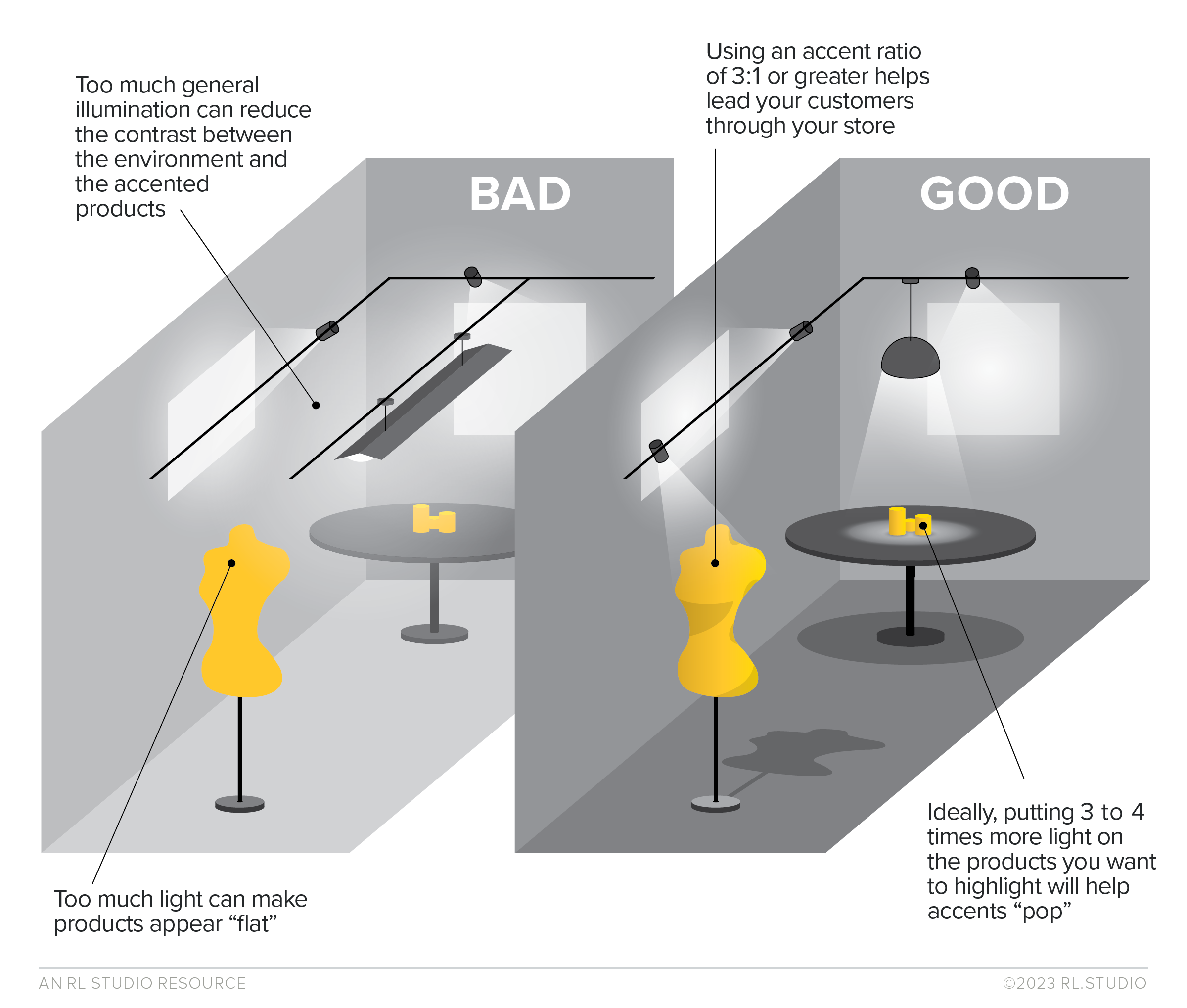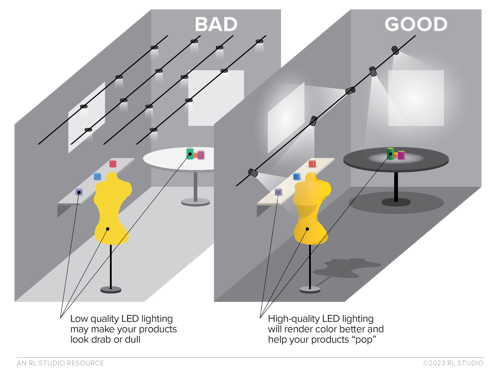 Retail lighting design that shines
It's amazing what great lighting can do to transform a retail space from dark and unnoticeable to eye-catching and appealing, making merchandise shine on displays. Sometimes plans start out well and value engineering causes issues down the road, and other times a client needs help understanding the difference between lighting options (which is no small feat with all of the lighting jargon out there). Regardless, remember that aesthetics can mean a more profitable space when it comes to retail.
If you're looking for retail lighting design ideas, check out our portfolio, and if you have a project that needs lighting design, we'd be happy to talk details.