Who should specify project lighting? When and why to use a lighting designer over an electrical engineer.
With new construction projects, it's common to bring in a lighting designer for specific areas of a project, like lobbies, retail spaces, or other high-impact spaces. Often other parts of a project like parking garages, corridors, or other "less glamorous" areas are specified by an electrical engineer.
This is typically done to save on the design cost for a project, but what if it can end up costing the client more when it comes to building the project? We'll explore an example where a little design work ended up saving a client a bundle on their materials cost and see how this might apply to projects you're working on.
Unexpected places where lighting design matters
Lighting design is typically equated with decorative fixtures, fancy wall washes, marketing displays and product highlights, and high-end spaces. But what if I told you that our team reduced the specification for a 4,500-space parking garage by 500 fixtures (almost 20%) and improved light levels across the board?
Wait. Lighting design for a parking garage?
Parking garages aren't what a typical lighting designer dreams of working on, but the bottom line for us is driving value for our clients. And sometimes that means working on parking garages, corridors, or other "less exciting" spaces.
Since our team works on remodel and renovation projects in addition to new construction, we see all kinds of existing lighting configurations. In the case of one CBRE property in Dallas, TX, the parking garage needed work with the existing 2,600 fluorescent vapor tight fixtures no longer providing enough light — plus an upgrade would mean energy savings.
When our designer was brought into the project, a complete cost and savings analysis was in order. Instead of specifying a one-for-one fixture swap, the proposed plan involved chain-mounting the new fixtures (lowering them fixtures 18 inches) which drastically improved the light distribution and light levels in the space. With this improvement, 500 fixtures were removed from the plans while still achieving an increase in light levels.
(In the image below, new lighting is on the left and old lighting is on the right.)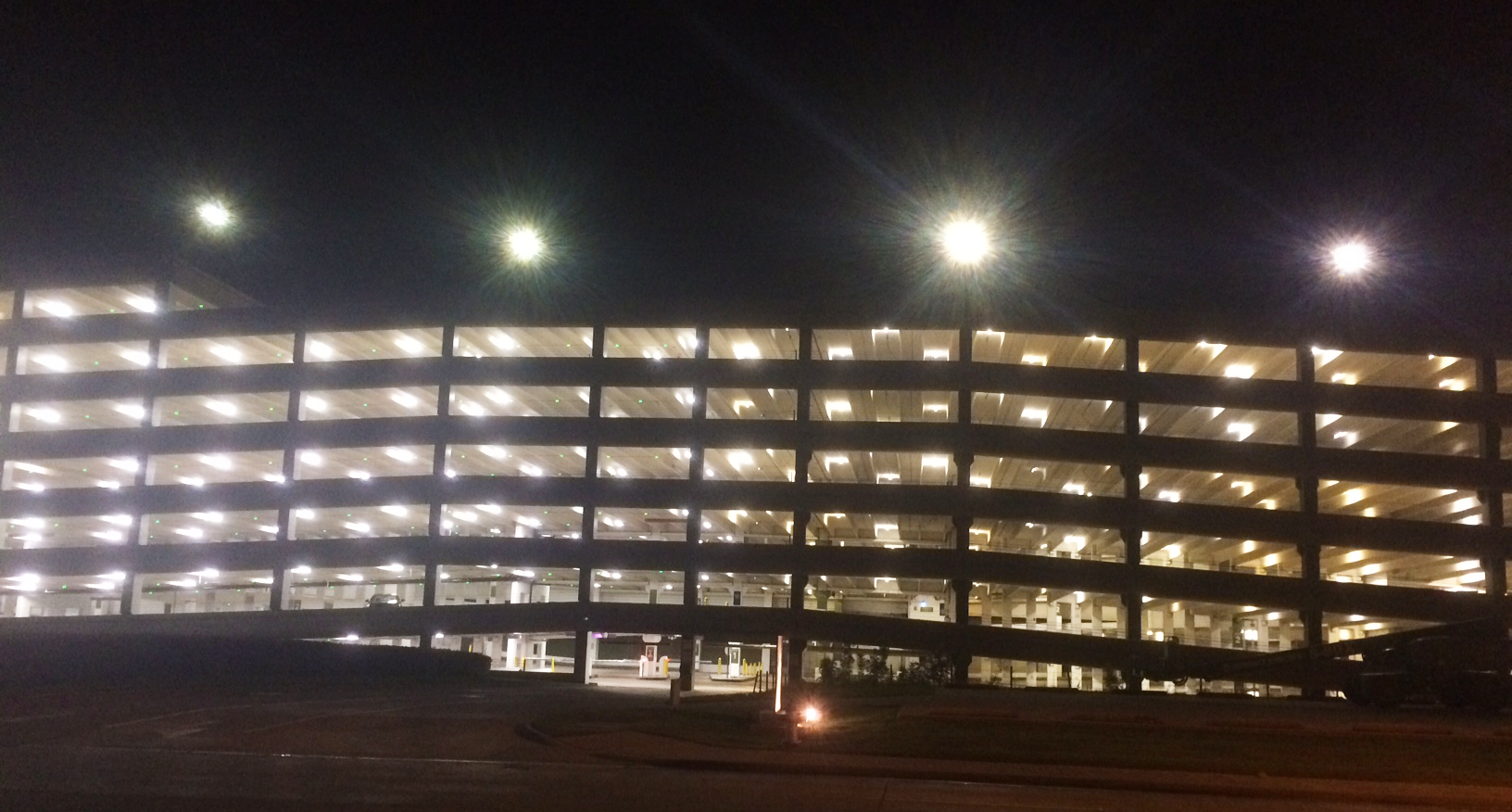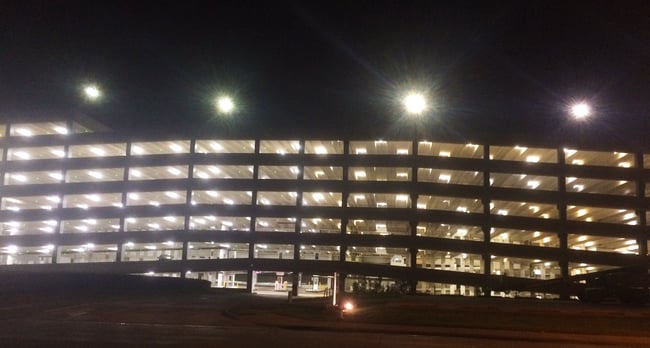 Lighting benefits beyond aesthetics
This isn't the most glamorous example, but the point is that a lighting designer can bring a different perspective to functional spaces where an electrical engineer may apply a few standard formulas to specify lighting in the space.
This isn't a knock on electrical engineers — they're an integral member of the design team, however, they are typically not lighting experts. A fresh expert design perspective can often save big. The project developer rarely complains about saving money!
But the question is, what was the value on the project other than reducing the material specification? In the example above, the property received consistent feedback from the building tenants about how much safer they felt with the updated lighting layout. Applying this perspective to a new construction project could mean the difference in attracting more tenants and customers by putting the best foot forward from day one.
Fighting the value engineering crunch
Another benefit for the client on a project is the reduced likelihood that value engineering will be a major snag down the road. One of the unique approaches we take on many projects is working with our project managers and procurement team to dial in cost and lead time for the lighting before the project gets underway.
When our team specified the lighting for the garage, the specific LED vapor tight fixtures were modeled to ensure the visual results and the material cost was negotiated to ensure the cost and payback were in line.
This approach reduces the risk that value engineering on a lighting package is going to be a delay or snag along the way, and it also helps to set expectations early in the process. The end result is typically a pretty happy client and clear specifications throughout the entire project timeline.
There are still many projects where an electrical engineer will specify a portion of the lighting, and this is still appropriate. But the next time you have a specification, it may be worth a short pause to see if a lighting designer could save the client money and make your job a little easier.
And if you're not sure, you can always reach out with a set of plans to see if we think we can add value on a project.